Jasmine is the eighth stage of Piano Tiles 2. It is unlocked when the player reaches Level 4.
Background
Edit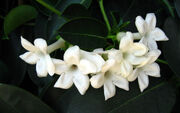 The folk song dates from eighteenth century. According to documentations, this was created during Qing Dynasty, and there are several different regional versions. The most popular version is from Jiangsu Province (江苏省, Jiāngsū Shěng), where the melody and lyrics are used for the game. The other version is from Zhejiang Province (浙江省, Zhèjiāng Shěng).
Differences
Edit
There are no differences between the game of the original.
The key is C Major. In a loop, the song is played three times, each with a different variation. The first time is played normally, with a melody and accompaniment. The second time is mainly imitative - the lower voice imitates the behavior of the melody in the upper voice. In the third time, the melody is largely transformed, with accompanied beats syncopated.
Before 3-star
Edit
The level is quite straightforward, with only a bit of complexity towards the end where the accompaniment falls on the off beat.
Post-3-star
Edit
As the stage is slightly faster than before, it is advised to be careful with the combination of holding tiles and single tiles; make sure to learn the patterns.
References
Edit
Gameplay Videos
Edit
Ad blocker interference detected!
Wikia is a free-to-use site that makes money from advertising. We have a modified experience for viewers using ad blockers

Wikia is not accessible if you've made further modifications. Remove the custom ad blocker rule(s) and the page will load as expected.